Jem and the Holograms THE MISFITS Mary STORMER Phillips™
2013 Collection. The Misfits. Jem and the Holograms Collection. Limited Edition 1200. 
Meet THE MISFITS, rival band and main competition of JEM AND THE HOLOGRAMS! Long awaited by all fans of the series, these iconic 80's cartoon divas finally make their dramatic debut in the JEM AND THE HOLOGRAMS adult collector doll series by Integrity Toys and Hasbro!
Mary "STORMER" Phillips™ writes most of THE MISFITS' songs, but she doesn't get much credit. Guitarist STORMER is the youngest and nicest of THE MISFITS, and she isn't into PIZZAZZ'S kind of troublemaking. She lacks confidence at first, but after partnering briefly with Kimber Benton in a new band, she returns to THE MISFITS with more confidence -- and remains close to Kimber. Her brother, Craig, dates Aja Leith.
STORMER is a fully articulated 12-inch vinyl doll with rooted hair and hand applied eyelashes. Always secretly ready to help JEM AND THE HOLOGRAMS thwart PIZZAZZ'S latest schemes, STORMER comes dressed in her truly outrageous smashing fashion and includes high-heeled pumps, her ultra-detailed guitar synthesizer, complete with realistic miniature strings, whammy bar, shoulder strap and plug-in amp cable! Of course, STORMER'S look wouldn't be complete without that signature flower in her electric blue hair! It also includes a set of alternate hands, a doll stand and certificate of authenticity. For adult collectors 14 and up only!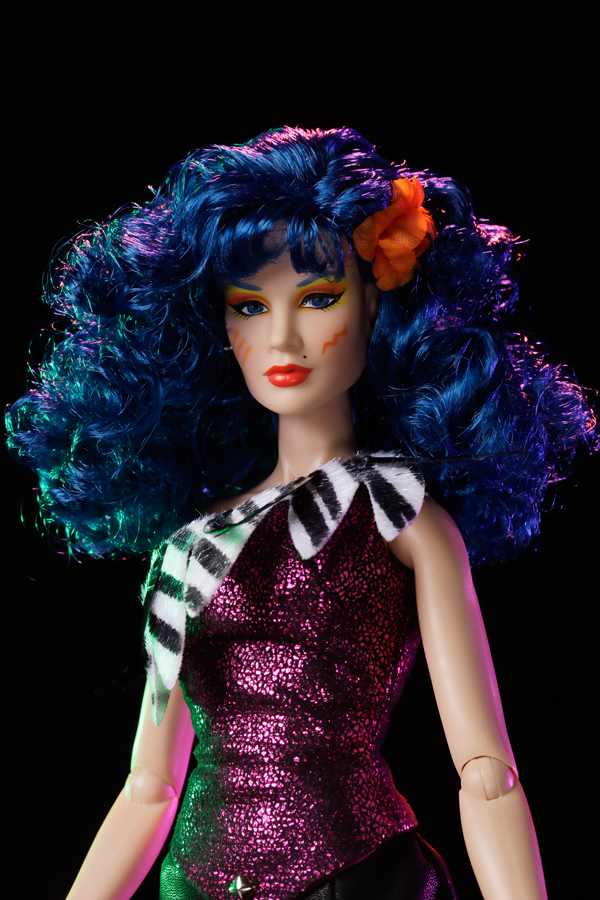 Manufacturer
Integrity Toys